30

abr, 2019
Why there is a V-cut in the ham's skin?
Many times, we can see a V-shape in the ham skin. This is the famous V-cut in hams, procedure applied to iberico and serrano hams and shoulder which consists on removing skin and fat excess. We tell you more about this procedure:
What is V-cut of the ham?
The V-cutting of the ham is a procedure which aim is to "clean" the ham. That is to say, remove the rests of skin and fat. This procedure is normally applied to every ham, without taking into account if the pieces are ibérico or serrano hams.
What is its aim?
The main function of this procedure is to clean the ham by removing the spares of skin and fat. We will try to remove as less ham as possible, which is normally around 10 cm, depending on piece needs. Moreover, by this procedure the external appereance of the piece becomes more attractive and with better aspect.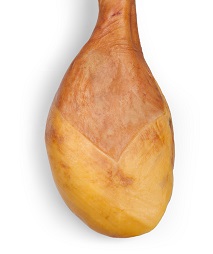 Why the cut is done with V-shape?
We will find different sort of cuts for the ham. The most common cut is in V-shape. The reason why this cut is so common is to avoid such a long curing time, as well as avoiding curing differences among different parts of the ham.
The procedure of V-cutting the ham is very common as it will provide more protection and quality to the ham, as well as regulating its cured.