01

feb, 2021
How many parts does a ham have?
Have you ever gone to buy meat and not knowing exactly what they refer when they talk about a jarrete, pluma, falda or aguja? If the answer is yes, don't worry, these terms may be unknown to you.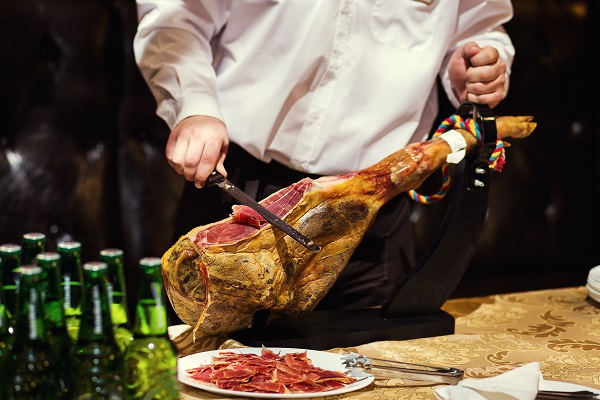 Bien que à chez Jamonarium, nous soyons toujours heureux de vous aider avec les questions qui peuvent naître sur le monde du jambon ibérique, alors que nous avons pensé qu'il serait utile d'expliquer la morphologie d'une jambe de jambon en détail. La connaissance n'a pas lieu, et vous serez également formidable devant la famille et les amis. Nous commençons!
MAZA: Au jambon et à l'épaule, c'est la partie la plus grande. C'est où la plus grande quantité de viande est concentrée, et où la viande est la plus savoureuse, juteuse et tendre. Cette partie présente un bouquet exceptionnel. La couleur de la viande est rouge foncé, qui devient rosâtre à l'approche de la partie extérieure près du graisse.
CONTRA: C'est ce qui vient à côté du club et qui en est séparé par l'os de la hanche. Dans cette zone, vous trouverez beaucoup d'infiltration de graisse, ce qui en fera une partie très savoureuse. Vous remarquerez également qu'il est plus guéri que la maza.
BABILLA: Sur le côté opposé de la maza, (sur l'autre côté du jambon), on trouve la babilla. Cette zone contient moins de graisse et sera la partie la plus cuite de la pièce. Sa viande est d'un rouge plus foncé que à la maza. Les experts recommandent de commencer la pièce sur cette partie si le jambon ne sera pas consommé immédiatement.
PUNTA : La punta est du côté opposé du sabot et est la partie qui relie le corps du porc avec la patte. Il a généralement plus de graisse que la viande et est assez savoureux. En effet, tant dans les séchoirs que dans les entrepôts, les pièces sont suspendues au sabot et, suite à l'imposition de la loi de la gravité, la graisse glisse jusqu'à ce qu'elle se dépose dans cette zone. La couleur de sa chair est rosâtre et brillante.
JARRETE: C'est la partie habituellement coupée en taquitos, car c'est le jambon le plus fibreux. Il est situé entre le tibia et le péroné. Bien que, si nous préférons couper en tranches, nous observerons qu'elles sont d'une couleur rouge intense et d'une texture caractéristique.
CODILLO: C'est la partie la plus haute de la maza (près du sabot) et, en plus, c'est là que la première incision est généralement pratiquée pour commencer à couper le jambon. Cette zone a beaucoup de goût et de graisse.
CAÑA: Et nous finirons avec cette zone, celle qui va du codillo au sabot, principalement pour les taquitos.
Et maintenant que vous savez combien du jambon entier, pouvez-vous nous dire laquelle vous préférez?