11

ago, 2021
How shall we slice the ham?
Slicing ham is an art that not everyone knows. In order to become an expert, you will probably need patience, but every effort has its reward and being able to enjoy this delicacy cutted by yourself is always an added value.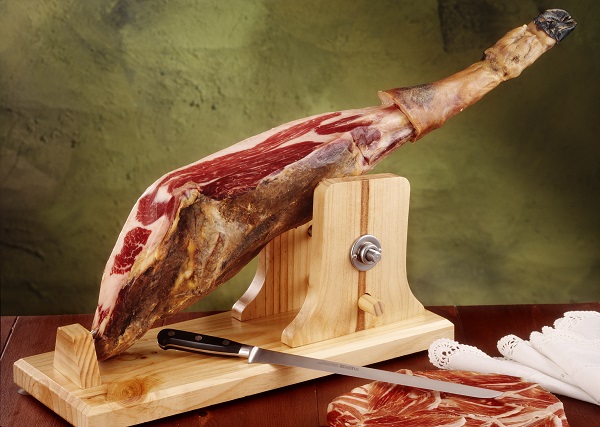 The Accessories
First, you will need the right tools. An appropriate ham holder:
some of them are rotating, bough, dumpling or even collapsible.
You should also have a tack to mark the ham and clean it from the outer fat, and a ham knife to slice.
We start slicing
Here you can see our videos about how to slice a ham or a shoulder:
5 VIDEOS - How to slice a shoulder
The cut should be done by placing the knife as horizontal as possible, and with the hoof in a remote area. It would be useful to know a bit about ham's anatomy, to know where the bone is located and being able to skirt them.
In this way we will avoid overdrying the ham, known as smile or boat. That is a concave shape that is acquiring a ham when it is not sliced ​​properly and that will cause that some areas will dry early.
The hand not used to slice must always be at a different height from the knife and always behind the cut direction to avoid injuries.
We must make short and slow zigzag movements, trying to get very thin slices of the thickness of a sheet of paper. If you get big slices, its aroma, texture and shades will not be appreciated correctly.
The ideal size of the slice is which enters completely into the mouth (5cm) without having to cut it with the teeth. It must also have the correct proportion of fat.
To place it, we suggest placing the slices circularly from the outside and making a spiral towards the center of it.
We hope our instructions have been helpful to slice a ham correctly and. The last suggestion, do not forget to enjoy during the process!
.
.
.
Do you prefer ham already sliced?
Here you can see our products already sliced.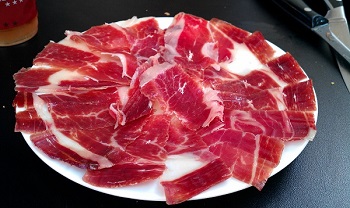 .
.
.
Subscribe Club Jamonarium

Being a member of Club Jamonarium we offer you an incredible list of totally exclusive advantages:
- Promotions on ham or other products from the online store
- Products out of catalog, exclusive for members
- Special gifts for our members
- Contents, videos, downloadable and many other surprises.