Delicious Salad Recipes to Refresh Your Summer
Summer is here, and it's time to enjoy fresh and healthy meals! Salads are the perfect choice to keep us hydrated and satisfy our appetite on hot days. This time, we present you with five refreshing and flavorful salad recipes that will help you maintain a balanced diet throughout the summer season.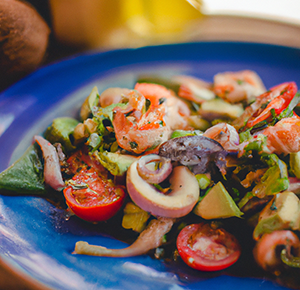 Summer Salad Recipes
1. Mediterranean Salad: Nothing better than starting with a salad inspired by the Mediterranean diet, known for its health benefits. To prepare it, you'll need cherry tomatoes, cucumber, olives, feta cheese, and red onion. You can also add anchovies, northern tuna, or bonito. Mix the ingredients in a large bowl and dress with extra virgin olive oil, lemon juice, oregano, salt, and pepper to taste. This refreshing delight is packed with antioxidants and healthy fats, providing significant health benefits.
2. Watermelon and Fresh Cheese Salad: This surprising combination of sweet and savory flavors will delight you. Make watermelon cubes and add pieces of fresh cheese, mint leaves, and fresh spinach. Prepare the dressing with olive oil and balsamic vinegar and add it to the salad. We assure you'll enjoy this refreshing blend.
3. Quinoa and Avocado Salad: This salad is a delicious and nutritious option. Cook the quinoa and let it cool. Then, add diced avocado, corn, cherry tomatoes, and chopped cilantro. The final touch is a dressing of lemon and olive oil. You can also add any of our canned fish preserves for an extra protein boost. Quinoa is rich in protein and fiber, making this salad ideal for maintaining a balanced diet during the summer.
4. Pasta Salad with Pesto: Cook the pasta, let it cool, and add pesto, cherry tomatoes, spinach, and pine nuts. Mix all the ingredients and enjoy this delicious and refreshing pasta salad.
5. Chickpea Salad with Herbs: This salad is an excellent option for getting plant-based protein and exquisite flavor. Combine cooked chickpeas, cucumber, red bell pepper, fresh parsley, and red onion. For the dressing, mix lemon juice, olive oil, minced garlic, salt, and pepper. Mix it well and let it sit for a while before serving. A healthy and delicious choice for your summer days!
This summer, enjoy these five salad recipes that will keep you hydrated and satisfied during the hottest days. If you want to add more ingredients to your salads, you can check our vegetable, fish, or seafood preserves for ideas on what to add. Dare to try them all and share these delicious dishes with your friends and family!