11

oct, 2018
Tomelloso, the best Manchego cheese in the world
Manchego cheeses are worldwide recognised and appreciated thanks to its particular flavor, traditional elaboration and high quality. Tomelloso cheeses are produced by the farms belonging to the Manchegos Shepherds Cooperative from Tomelloso, which was created with the aim of guaranteeing high quality production of Manchego cheeses in the world with D.O. or Designation of Origin.
The cheese factory from Tomelloso has been producing the best Manchego cheeses in the world for around 30 years, using its artisanal method of elaboration. Their cheeses are produced using both goat and sheep milks. The milk used in their cheeses has been previously analysed and conformed strict quality controls. The mixture of high quality milk and a characteristic processing method results in excellent cheeses.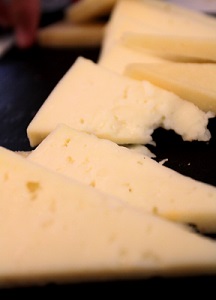 Tomelloso cheeses are 100% natural, so they do not contain neither preservatives, colourings or chemical additives. They have been made only using milk from the surroundings of its farms in order to fully guarantee the quality of the cheese. In addition, the cheese rind is brushed instead of painted. This means that these cheeses are free of waxes and paraffins so they are suitable for consumption.
Some of these cheeses have Designation of Origin Manchego (D.O. Manchego). In addition, they have several national and international awards and recognitions, such as the "Best Manchego Cured Cheese" or first prize for Mixed Cheese quality in the national fair of Manzanares, among others.
Do not hesitate to try our Tomelloso cheeses, unique in the world!