20

dic, 2018
How to preserve knife-made slices?
Sometimes, we don't know how to preserve our ham or shoulder ham sliced with knife in order to preserve its aroma and main properties. The question is: How can we preserve a portion of ham as already sliced during some days?
There are different theories about how to preserve ham slices, but it is important to look for practicality and comfort to preserve them. Below some useful guidelines to enjoy your ham as recently cutted: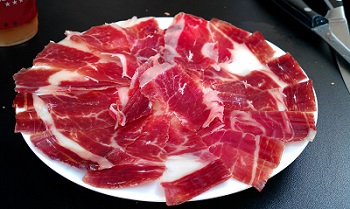 How to keep your ham slices?
If it is not very hot (like 15-20 ºC), you can keep it outside the fridge as it will better preserve its aroma and texture. If it is hot, the best thing to do is to keep it in the fridge in order no to overdry it up.
In both cases, we will protect the slices as follows:
Kitchen or paper towel: This is one of the most recommended options to preserve ham short periods. We will have to cover the slices with a cotton cleaned kitchen towel. It is recommended because ham can "breathe" and preserve its properties and aroma.
Tupper: This is the most supported option by us as the ham is better protected. We recommend keep slices in a tupper in order no to overdry them very fast cause they are not in direct contact with air and external agents, so they will preserve aroma and properties longer.
Plastic film: The use of plastic film is one of the biggests questions around hams. The plastic film does not let the ham breathe properly, but if you preserve it with plastic film during a couple of days is also alright.
Cooking foil: We recommend this option to be avoided at the time to preserve ham, as it avoids the ham breaths. Moreover, aluminium is a metal, so that we think it is better to avoid it as much as possible. There is nothing wrong of transporting our ham sliced wrapped with cooking foil, but it is better to avoid it at the time to keep it.
Can we freeze our ham slices?
Actually we can do it. If you want to preserve them during a long time, this might be an option, but it has some inconvenients. This may modify a bit the ham aromes due to water infiltrations on the fiber slices.
The better way to preserve them in the freezer will be in hermetic freezer bags. It is very important to note that, in case of freezing them, the defrozing process would be as slow as possible in the fridge. Thus we will get the ham preserves as much flavour as possible.
Nothing compares to ham already cutted, so it is important to preserve it in good conditions for those who are ham lovers. We wish you enjoy it!
Comentarios
Deje su comentario