History of Jabugo Ham: Cinco Jotas
Today we will talk about the story of the most well-known iberian ham in the world. If you like everything related to this delicacy, you know about the brand and the place we refer to.
Jabugo has a magic flavor: that of 100% Iberico ham. This has been achieved thanks to many years of work and dedication of a hundred-year-old house: Cinco Jotas.
The Cinco Jotas cellar is located in Jabugo, a town in Huelva that is located between the Sierra de Aracena and the Picos de Aroche. An area considered a UNESCO Biosphere Reserve.
This is where this brand was born in 1874. It has managed to keep a tradition alive to this day, in addition to giving work to several generations of families in the town.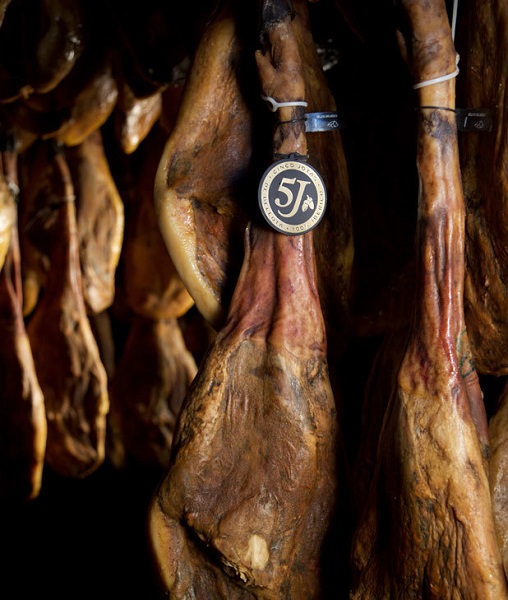 Its natural cellars enjoy cool and hot summers and dry and wet winters. By taking advantage of natural ventilation and its own microflora, it greatly contributes to the long curing process of its hams, which are individually supervised. In addition, they are recognized for being the most exclusive in the world.
The history of Cinco Jotas Jabugo hams
For centuries, the few inhabitants of this quiet town have cared for the Iberian pig, in order to be self-sufficient. A way of survival that has become a tradition and has been passed down from one generation to another.
Cinco jotas exists thanks to the initiative of Juan Rafael Sánchez Romero, who back in 1879 decided to open the first pure Iberian pig slaughterhouse in Jabugo. 30 years later he would be joined by the cattler Manuel Romero (expert in Iberian pig) and Vicente Carvajal, commercial and distributor.
This team gave rise to Jamones Cinco Jotas and the projection of Jabugo as a reference for Iberian ham all over the world. His recipe? Count on the wisdom of experts and preserve specialized trades to guarantee gastronomic delicacy.
And it is that within the process of elaboration of a Cinco Jotas there are several figures that take on special importance:
The profiler: confirms the correct maturation of the pieces.

The person responsible for salting: determines the amount of salt.

The person in charge of dryers: maintains the perfect balance between humidity and temperature.

The cellar master: determines that a Cinco Jotas Ham meets the standards to bear the Cinco Jotas name.
They are what give rise to this 100% Iberian Bellota ham, the authentic "pata negra" that you can find in our online store.