Where to buy pata negra, Iberico or Serrano ham in Munich?
Iberian and Serrano hams are two of the most prized foods in Spanish gastronomy, and with an increasing international presence. Buying an iberico pata negra or serrano ham in Munich is a laborious task, but in Jamonarium we want to make it easier for you with some advice. We are aware that the experience of eating Iberian and Serrano ham in Munich is a real luxury.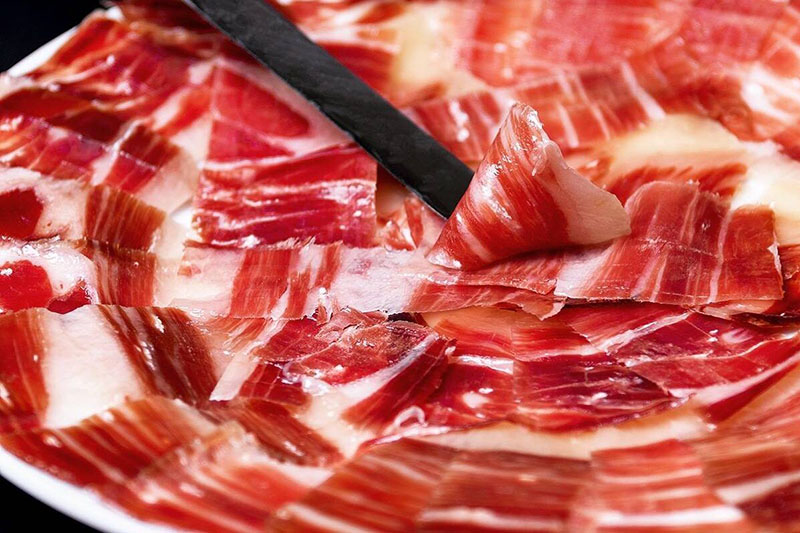 1. How to send Iberian and Serrano ham to Munich?
Sending your iberico pata negra or serrano ham to Munich is very easy and fast. To do so, you will have to follow the following steps.
1- Select the products you want to buy.
2- Enter any delivery address in Munich, where you want to send the product. See countries where we ship.
3- Select the courier you prefer among those available in Munich.
4- You can make the payment by card, paypal or bank transfer.
5- Once your order has been confirmed, we will prepare and send it to your address in Munich.
6- You will receive a link with the tracking of the order and we will notify you once the order has been delivered.
2. Can I buy an Iberian and Serrano ham as a gift to send to Munich?
Making a gift with Iberico Bellota and Serrano ham to send it to Munich is very simple and fast with Jamonarium. You will simply have to place the order as mentioned in the previous section. Following the transportation methods, you will see a box to check with the text "My order is a gift". By clicking on the box, a box to write will appear and you will be able to write the gift note. We will print this note and attach it to your order, which we will prepare in the best possible way so everything arrives in perfect condition.
After leaving your gift message, you will be able to make the payment. We will not be sending the invoice to the recipient. We will only send a delivery note without showing prices as a list of products. You can check that the gift has arrived perfectly and you only have to think about enjoying such a precious gift.
3. Can I bring Iberian and Serrano ham by plane to Munich?
Although we ship anywhere in Munich, you can also carry whole, boneless, sliced or whole sliced ham in your suitcase. Since Germany is a country inside the European Economic Union, you will have no problem carrying it in your luggage. However, we recommend that you read the following tips before traveling with your ham:
Tips for taking Iberian and Serrano ham by plane to Munich
Take it vacuum packed, so it will be perfectly preserved and will not lose its properties.
Keep in mind that although Germany is part of the European Union, there may be weight restrictions. Therefore, we recommend you to review the customs instructions to avoid any problems.
If you're carrying sachets of sliced ham, leave a few packets outside of your check-in bag, so you can enjoy them with bread when you're hungry at the airport or on the plane. You'll see how delicious it is and it will be cheaper!
If you buy a whole cut or boneless, it is a very comfortable format since the vacuum will perfectly hold the entire trip and will not exceed the weight allowed by the authorities.
4. Ham cutter service for events and congress in Munich
From Jamonarium we offer the ham cutter service for events and congress in Munich. There is nothing like the experience of eating ham hand sliced by any of our professional ham cutters. All your guests will love the Iberian ham and will be delighted with this incredible experience.
How to hire the ham cutter service for events in Munich?
To hire your ham cutter service in Munich with Jamonarium, you will have to do it as follows:
1- Contact us by email. See contact form.
2- In the email, you will have to provide us with the day, time and where the event is.
3- We will send you a quote in a few hours, with all the details of the ham cutting service in Munich.
4- Once the data is confirmed and you have chosen your whole ham or shoulder, one of our professional ham cutters will be at your disposal on the day and time you have reserved your cut. Enjoy!
5. Where to eat Iberian ham in Munich?
Munich is a German city that has a lot to offer its visitors, from its historic architecture to its lively nightlife. If you are planning to visit Munich, we recommend bringing along some sachets of these iberico bellota and serrano hams and enjoying a picnic in any of the beautiful green areas that the city offers, such as Englischer Garten or Westpark. You can take them with you on the plane, or we can send them directly to your hotel in 24-48 hours.
The most important places to visit in Munich
Marienplatz: Marienplatz is the main square in Munich and is considered the heart of the city. Here, you can find the famous Glockenspiel clock in the Town Hall tower, which offers a daily presentation at 11:00 and 12:00, where mechanical figures represent historical moments of the city. Additionally, the square is surrounded by impressive buildings and is an ideal place to have a coffee or a beer at one of the restaurant terraces.
Beer Museum and Oktoberfest: Munich is famous for its beers and the Oktoberfest, one of the largest festivals in the world. If you are a beer lover, you cannot miss the Beer Museum, which offers an interesting exhibition about the history of this drink. Additionally, if you visit Munich in September, you cannot miss the Oktoberfest, which attracts millions of people every year.
Nymphenburg Palace: Nymphenburg Palace is a beautiful Baroque palace located on the outskirts of Munich. It was the summer residence of the Bavarian rulers and is now a popular tourist destination. The palace has an impressive collection of art and furniture, as well as beautiful architecture and gardens that are worth exploring.
Hofbräuhaus: Hofbräuhaus is one of Munich's most famous breweries and has become a popular tourist destination. Founded in the 16th century, it has been the meeting place of many historical figures over the years. It is an ideal place to enjoy a German beer and a traditional dish while enjoying live music.
Englischer Garten: Englischer Garten is one of the largest parks in Europe, and is a must to visit for those looking to enjoy nature. It is an ideal place for hiking, enjoying a picnic, or simply relaxing and enjoying the tranquility. The park also features a lake and several themed gardens.
Munich is known for its love of good food and its passion for high-quality products, including Iberian and Serrano ham. These delicious hams are highly valued in the city and around the world, and it is increasingly common to find places where they are offered freshly sliced. If you are looking for where to buy Iberian ham, pata negra, and Serrano ham in Munich, do not hesitate to contact us. We will be happy to help you find the best places to enjoy these products and delight in their unique taste.
See you next time!