How to profit the ham bits from the end of the ham Iberian?
Iberian ham is a food that can be used for everything. From the famous bone to make soups to the fat to make torreznos. The ham bits have many possibilities of being used.
The ham bits are extracted from the parts where it is more difficult to get slices of ham. These are from the closest areas to the bone, where slices cannot be done. They are highly appreciated among Iberian ham lovers for their intense flavor and texture. They have infinite possibilities and they will give a lot of flavor to all the meals where we can add them.
Do you need ideas about how to take advantage of ham bits? We give you some below:
Ideas to take advantage of the Iberian ham bits
To put in gazpachos and soups: Spoon dishes, both hot and cold, are loved by children and adults.

Making ham croquettes: Who doesn't love croquettes? To prepare a snack or to eat tapas at home. They are perfect for any occasion.

Serve as a tapa with a good wine. Thanks to their juiciness, they are perfect to serve as a snack. If you are a lover of reds, a good Rioja will be your best ally.

Prepare a delicious recipe to take advantage of them and give them a different touch. An example that we give you a courgette salad recipe that will surprise you.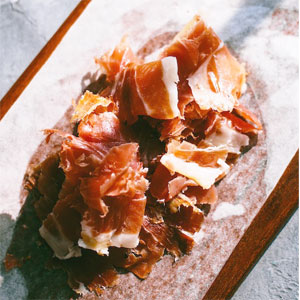 Recipe: Courgette salad
For this recipe for 4 people, you will need:
4 courgette

3 oil tablespoons

salt and black pepper

200 g of Iberian ham bits

2 pine nuts
You will need for the dressing:
2 tablespoons of red wine vinegar

2 tablespoons of honey

The juice of half a lemon

6 tablespoons of olive oil and a bit of fresh thyme

Elaboration of the courgette salad
Actually, grilling courgette won't take long.
Slice them, dip them in a bowl with olive oil, salt and pepper, then grill them until golden brown and tender.
Once they are ready, put them on a plate, add the dressing and finish adding ham and pine nut. Ready! You will have a starter that your guests will love, or a dish to enjoy alone or with your partner when you don't know what to do to eat.
That would be all. Easy, right? If the pig takes advantage of everything ... and this is a sample.
Ah, if you like this dish and now it turns out that you don't have Iberian ham to finish, don't worry. In Jamonarium we have Iberian ham bits of the best quality and vacuum packed, ready to send them wherever you tell us.
Don't miss out on yours. Buy Extra ham shavings.
See you in the next post.