21

ene, 2020
Black pork sobrasada, a delicacy that you can find in Mallorca
Behind this exquisiteness there are many years of history. It is said that sobrasada was already prepared in Mallorca in the 15th century, although the characteristic orange color would arrive in the 18th century. Which ingredients make it special? Pork meat (which must be of Balearic origin so that it can be called Sobrasada de Mallorca), lard, salt, paprika and pepper.
In Mallorca two types of sobrasada are known. One is prepared with meat from the white pig, which is called "Sobrasada de Mallorca" and the other is called "Sobrasada de Mallorca de Cerdo Negro" which is prepared with the meat from the black pig breed (porc negre), which is native to the Balearic Islands, raised in freedom and with a diet based on figs and carobs and supplemented with cereals and leguminous, in which we will deepen today.

What is and how the black pork sobrasada is made?
The meat of the Black Pork from Mallorca has a reddish and dark color, and is very healthy and tasty. Like the Iberian pig, it has a high percentage of unsaturated intramuscular fat (17%), in addition to considerable amounts of oleic fatty acids (the type of fats contained in olive oil). The approximate weight of the animal is around 150 kg and measures between 70 and 80 centimeters. The breeding is carried out in a semi-extensive regime and will be fed with figs, acorns and a mixture of cereals.
To obtain the sobrasada, a strict elaboration process will be followed, which would be recognized as a Protected Geographical Indication (PGI) in 1996. This process includes the mincing, kneading and stuffed in natural pork casings and to which the necessary curyoing in dryers until physicochemical and sensory characteristics of this Mallorcan product are achieved. At the end of the process, the sobrasada will have an irregular cylindrical shape, determined by the morphology of the gut. The surface of the sausage will be dark red, smooth or slightly rough, with a slight whitish mold. It will have a characteristic flavor and aroma, with a clear presence of paprika.
It is normally sold in pieces of 500 g of medium weight and with any traditional presentation. At the time of consuming it, there are countless recipes made with sobrasada such as: the sobrasada toast with fried egg, sobrasada with honey, the sobrasada omelette (with or without potato), the macaroni with sobrasada, the spaghetti with sobrasada and honey , although the most traditional way of consuming it will always be to spread it on some bread.
Mmmmm, sure we managed you to whet, do you dare to try it?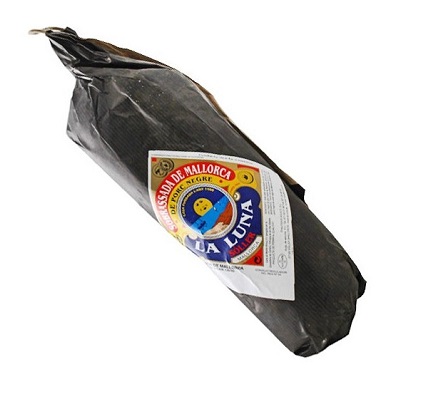 Sobrassada (majorcan sausage) of black pig Ecological IGP La Luna