Sant Gil d'Albió, the tradition of the best goat cheese
Today we talk about Sant Gil d'Albió artisan goat cheeses. These cheeses are made in a small company located in the district of Llorac in Conca de Barberà, and that have managed to gain a foothold in the gourmet world dedicated to cheeses.
With its sights set on making itself known abroad, you can find this brand in places as diverse as Germany, England, Sweden, Australia, the United States, or of course, a little closer, here at Jamonarium.
1. 

History of Sant Gil d'Albió goat cheese
Sant Gil d'Albió artisan cheeses were born 35 years ago in Albió, a district of Llorac in Conca de Barberà, and give their name to a company, which despite its small size manages to invoice more than one million euros a year. Sant Gil d'Albió is the only cheese factory located in the Corb Valley, an idyllic place where life moves at a different pace.
When we talk about cheeses of Sant Gil d'Albió, we are talking about a consolidated family business where a second generation already works. Currently, it is Josep Martí who runs the company that his mother, Nati Ninot, created in 1983. Small cheese artisans dedicating themselves professionally to production was unthinkable.
Nowadays, they focus mainly on the production of goat cheeses, with a medium to long maturation period. Its star cheese is El Garrotxa, a goat cheese that today is in the process of getting PGI (Protected Geographical Indication) certification.
Our Sant Gil d'Albió cheeses
2. 

Production of Sant Gil d'Albió goat cheese
Although they have modernized facilities, the production process has a marked traditional character. Like all Garrotxa cheeses, it is made from goat's milk, specifically from Murcian goats. They are characterized by being the producers of dense milk, loaded with a wide variety of aromas thanks to their feeding.
Its collection system is based on getting the milk directly from several local farms, which also have the Catalan Goat Milk certification and allows them to obtain a very fresh raw material of the highest quality in a short period of time. It is shown in the final result.
Having local producers has a positive impact on the production process and on the livestock and peasant sector of the area, promoting their permanence.
The production process itself, despite its modernizations, does not forget its characteristic feature: its roots. This leads them to work by hand one by one all their cheeses from the curd, through the pressing, until they finish their maturation. This process will take place in the same cheese factory located 700 meters above sea level.
The Sant Gil d'Albió cheese factory has a gradual but sustained growth, which has allowed them to reach considerable numbers, producing around 90,000 kg of cheese per year, of which around 40% will be exported.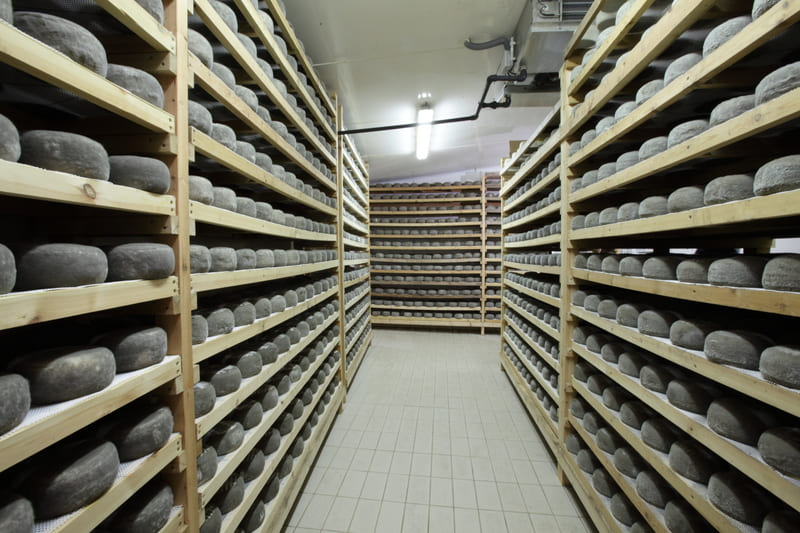 Sant Gil d'Albió artisan goat cheese, Garrotxa style
In this case we are talking about a semi-cured with its natural moldy rind, characteristic of Garrotxa cheeses. Its texture is creamy and compact. Its flavor is of a medium intensity and totally balanced, with its just point of salt and acidity.
Our recommendation: Enjoy it alone with bread, in salads or accompanied by other varieties of cheeses on a good board, with candied fruit or nuts. You can pair it with a slightly mature white wine, or a fruity and young red.
Goat Cheese Reserve El Gran Pep, Sant Gil d'Albió
This cheese has a long maturation period of almost one year, which gives it a much more pronounced flavor than the previous one, with sweet and fruity features.
Perfect to eat with honey, chocolate or fruits. And of course, paired with a red wine with an intense body.
4. Origin Sant Gil d'Albió, milk from local goats
They are in the process of obtaining the Protected Geographical Indication (PGI). The Sant Gil d'Albió cheese factory produces its cheese from local farms adhered to "Catalan Goat Milk", which is a label that guarantees quality and provides support to farmers in the area.


5. 

Sant Gil d'Albió cheese awards
Sant Gil d'Albió cheeses have different recognitions that guarantee their quality, among which the following stand out:
In 2019 they received the Lactium d'Or award, Silver in 2019 at the World Cheese Awards, or Gold in its 2016 edition.
Finally, in 2021, the goat cheese El Gran Pep has received the Lactium award for the best goat cheese.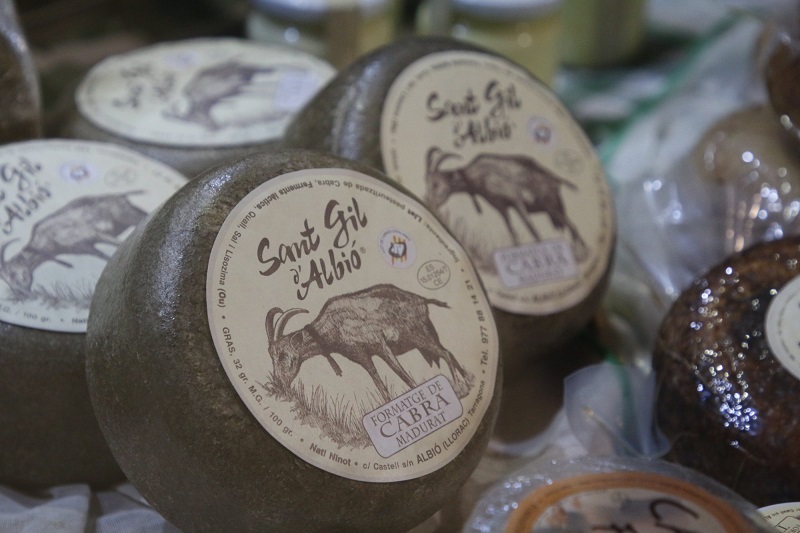 6. 

Recipes with Sant Gil d'Albió cheese
We have already given you some ideas on how to enjoy Sant Gil d'Albió cheese, but let's give you another one, why? Very simple, the more ideas the better. In addition, this is a recipe that you already know that we love, you facilitate, that require little preparation and that you can do at any time to leave that unexpected visit with your mouth open.
Canapes of salmon marinated with goat cheese (10 canapes):
Ingredients
250 gr of smoked salmon.

3 tomatoes.

10 slices of bread.
Preparation
Cut the bread slices and toast them until lightly browned, then place them on the serving tray.

Also cut the tomato, and put it in its place, on the toasts.

Add EVOO.

It is the turn of the smoked salmon slices.

And finally, the star touch, on top of the canapé and as grated cheese, uses Sant Gil d'Albió artisan goat cheese.
Traditional cheese board:
To make a cheese board, the ideal is that they are different from each other so that there is a greater variety. Our proposal is the following:
We recommend accompanying it with some wine. Any white wine or sparkling wine is ideal for pairing.
Enjoy!