Organic and local Mas el Garet artisan goat cheese
Today we will talk about a different goat cheese. Not long ago, making this type of cheese was typical only in certain regions. When a small Catalan company decided to bet on the manufacture of goat cheeses back in 1999, it was quite a challenge.
1. History of the artisan and local Mas El Garet cheese
Everything started for Isidro Más and Lluís Mauri at the end of the 90s, in Tona (70 km from Barcelona) with just 100 goats and in Catalonia, a territory where the manufacture of goat cheese was not typical.
Its beginnings would be a declaration of intent. A commitment to the manufacture of a unique and artisan cheese that represents the values ​​of the Catalan land. In 2007, they opened their cheese factory.
A 100% self-sufficient cheese factory, in which the land is cultivated where cereals and legumes are grown with which they will feed their goats.
This attention to detail, added to the control of all the production points of the product, (including livestock and their food), have made them obtaining several ecological certifications: The ecological seal of the Regulatory Council of the Organic Agriculture Production (2012), and the stamp issued by the Catalan Council of Organic Production (CCPAE).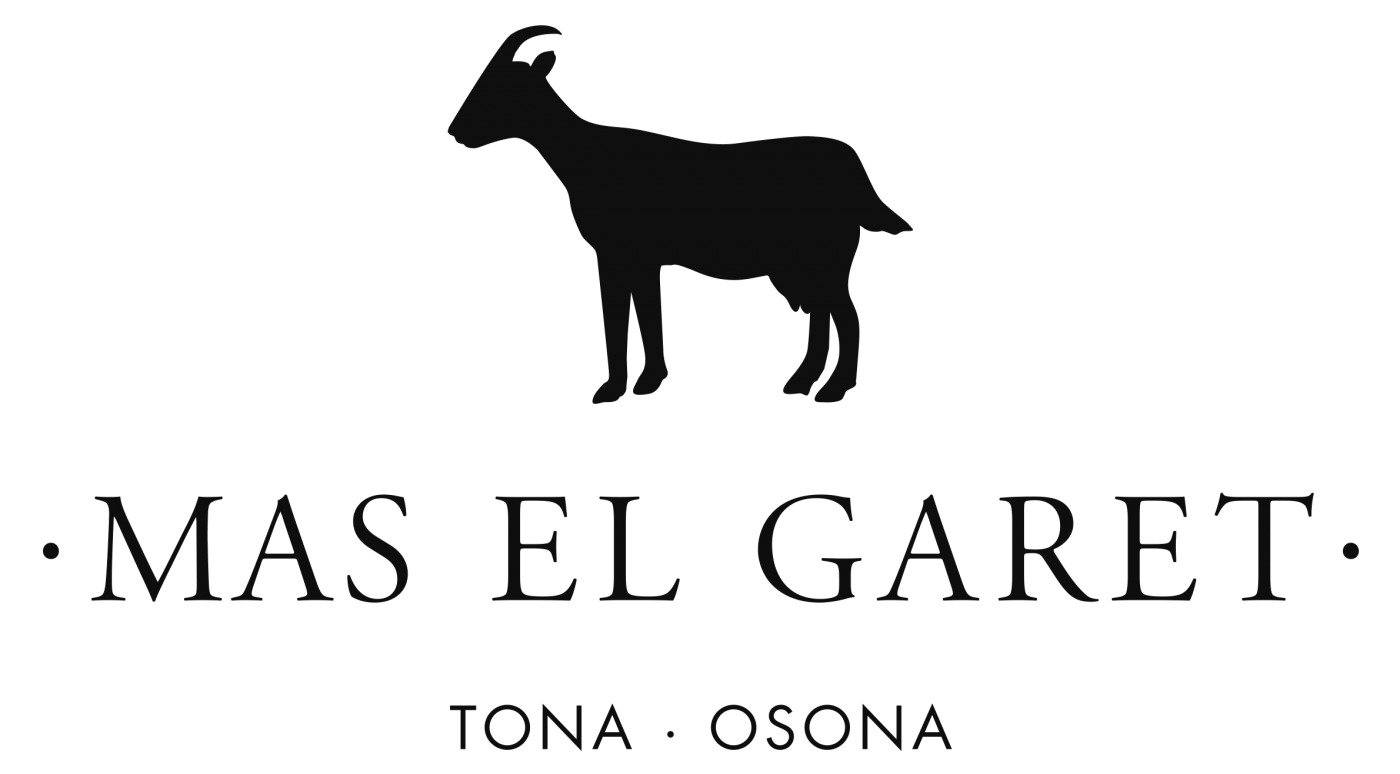 2. Production of the artisan and local Mas El Garet cheese
The entire production process is handmade. This means that they limit themselves to pasteurizing the milk of their goats (of the Murcian-Granada breed). From there, with the use of different suitable ferments and rennets this cheese of excellent quality is obtained.
At Mas El Garet, they use almost 10,000 liters of milk a week, which is divided between fresh cheese, yogurts and matured cheeses.
The cheeses, according to their weight, will need more or less time to ripen. Around 3 months for smaller cheeses and 5 months for the bigger ones.
It will be precisely during maturation when Mas El Garet will become the cheese. During that time, it will develop the mold that characterizes it and which is part of the production of a multitude of products such as sausage or Garrotxa cheese.
It begins as a Garrotxa cheese. If during the first eight weeks it has not been sold, it is covered with wax to stop the growth of the fungus, and will become the Matured cheese from Mas El Garet.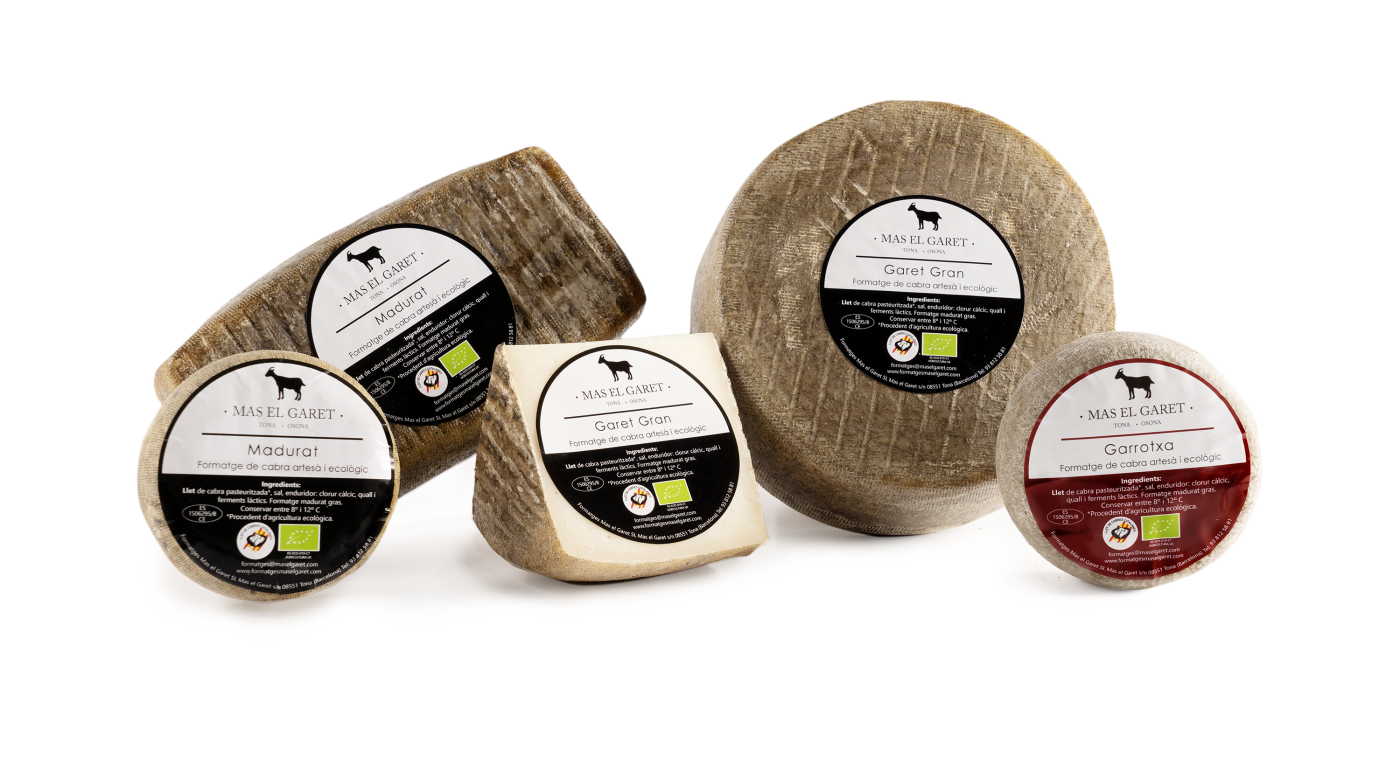 3. Characteristics of the artisan and local Mas El Garet cheese
The bark of Mas El Garet, with colors ranging from brown to gray, is natural, rough and clean lined with a thin layer of wax. Its pasta has an achieved ivory tone, with abundant small eyes (or cheese holes) and its texture is firm and smooth.
The flavor is creamy, with a small touch of acidity common from goat cheeses.
4. Designation of Origin of the artisan and local Mas El Garet cheese
Although it has already been awarded various awards, it has different organic seals and is attached to "Catalan Goat Milk", a quality label that guarantees the product and gives support to farmers in the area. They are still in the process of obtaining the Protected Geographical Indication (PGI).
5. Awards of the artisan and local Mas el Garet cheese
The trajectory of Mas El Garet is unstoppable. In a short time, it has managed to be among the top 16 cheeses in the world.
But he also has to his credit the following awards:
WORLD CHEESE AWARDS 2018
Super Or Formatge Madurat Goat Eco Medal

Medal D'Or Formatge De Cabra Al Pebre Negre Eco

Silver Medal Formatge De Cabra Garrotxa Eco
WORLD CHEESE AWARDS 2016
Medal D'Or Tendre De Cabra A Les Fines Herbes Ecològic
WORLD CHEESE AWARDS 2015
Silver Medal Goat Al Pebre Negre Ecològic
WORLD CHEESE AWARDS 2013
Madurat De Cabra Ecològic Silver Medal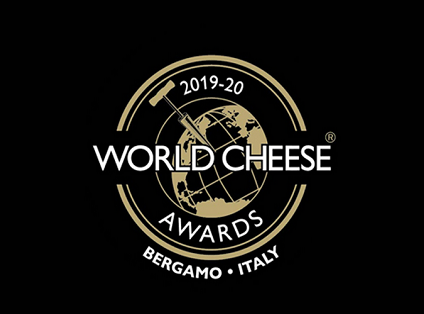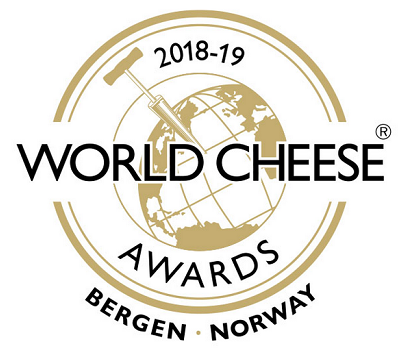 6. Recipes with the artisan and local Mas el Garet cheeses
Ideal to add to any cheese board or enjoy it alone. It fits at any time of the day and pairs perfectly with dry white wines.
If you like cooking, here we leave a recipe that we love. The simple and fast ones, to look great with your guests or with yourself.
Mas El Garet goat cheese appetizer, apple and jerky
Ingredients for 4 people
1 sour apple

1 slice of Cecina

50 ml of liquid cream for cooking

5 ml EVOO

15 gr of Butter

Ground black pepper and Salt to season to taste
Preparation
Peel the apple and dice it.

Sauté it for about 10 minutes in a pan with butter, and then prepare the cream cheese, as follows:

Chop the jerky, and combine it in a bowl with the recommended proportion of our Mas El Garet cheese and cream.

We heat the mixture in the microwave until we obtain a creamy paste.

Add EVOO and season to taste.

Finally, you can serve this caprice in two versions: on a warm and crispy toast or in a cold glass interspersing a layer of cream cheese and another of fruit and jerky.