Paco Lafuente, canned fish and seafood from the Cantabrian coast
1. Cannery Paco Lafuente, canned fish and seafood from the Cantabrian coast
Paco Lafuente is a Galician factory on the banks of the Arosa estuary, in Vilanova de Arousa, with over one hundred years behind, preparing and canning preserves and handmade quality. The company was founded in 1904 by Manuel and Francisco Lafuente. Without using unnecessary additives, produce a traditional product and care, with the best and most ancient techniques, supported by the logical technological advances. All with the best raw material exclusively from the coastal area without using unnecessary adds. Tradition and naturalness so that products do not lose the taste of forever.
2. The mark of distinction in the products Paco Lafuente
What sets the standard for canned preserves gourmet is based on tradition and process, especially in the cooking. When the fish reach the factories, after the cleaning and gutting, good and careful cooking process is essential for gourmet canned. Only steam, eliminating water fish, enhancing its flavor, and then covered with a large olive oil. This is how Paco Lafuente get a differentiation from other common brands with absolute quality.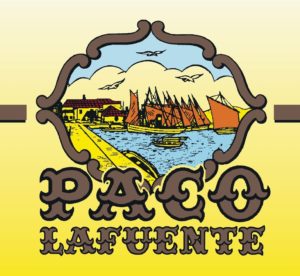 Our products Paco Lafuente
3. Where are the canning coming from?
This very peculiar fact of cooking food and vacuum packaging them was the brainchild of a Frenchman, under Napoleon, who promised a prize to anyone who will help preserve food.
This young French cooker, Nicolás Appert, he began to experiment and observe that boiled food more than 80 degrees without being exposed to air, lasted longer without being spoiling.
The tinplate was invented by an Englishman whose name was Peter Durand. In Spain we met the canning food because of a French ship, that was shipwrecked in the Costa da Morte. The following year there were a cannery in Galicia.
The fish canning are all a classic in Spanish grastronomy. Every year, a Spanish person eats more than 4Kg. The most consumed product is the mussel, specially in scallop sauce and brine sauce.
4. Recipes
- Scallops with guacamole and tomato
Ingredients:
1 can of stewed scallops
1 avocado.
1 spring onion.
1 green tomato.
½ green pepper.
1 dl lime juice.
Salt.
Tabasco.
4 cherrys tomatoes
Separate the scallops and set aside.
Mash the avocado, onion, tomato, green pepper, lime juice, all very fine, season with salt and Tabasco and reserve cold. Open two tomatoes with a spoon to remove the hearts. Reserve. Arrange on a plate a little guacamole, along with some scallops, tomatoes and salad.
- Scallops over rice
Ingredients:
200 g wild rice.
Vegetables soup.
1 clove of garlic.
1 can of stewed scallops
Braise the garlic, add the rice and soaked with broth. After that give the salt and cook according to marking time. Soak with more broth if necessary. Separate scallops from the stew, crushed the stew in blender with a scallop. Strain and set aside.
In a nonstick pan, fry the rice with a little olive oil, brown carefully to create the effect of self-toasted rice paella. In a bowl, put the stew scallops along this put some rice and some scallops.
- Sardines with Spanish gazpacho (tomato soup)
Ingredients:
1 can of sardines in olive oil
Gazpacho (2 ripe tomatoes, 1/2 onion, 1 clove garlic blaqueado, 25g breadcrumbs, 1/4 cucumber, watermelon 50 gr, water, white wine vinegar salt, pepper and oil sardines).
Fresh coriander leaves
Drain the sardines and reserve both the oil and the sardines. For the gazpacho clean and chop the vegetables and watermelon, we mix the bread and cover with water and leave in the refrigerator for 12 hours, the next day grind in blender and season with salt, pepper, oil, sardines and some vinegar. About a bowl put some gazpacho, on this put the sardines in an original way, chop some cilantro.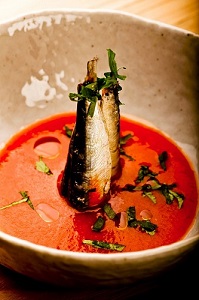 - Sardines bread
Ingredients:
1 can of sardines in olive oil
Bread
4 cloves garlic
Paprika de la Vera
Drain the sardines and reserved both oil and sardines.
Crumble the bread and dry in oven at low temperature, about 50 °, in a pan put some oil sardines and fry on this garlic, add the dry bread crumbs and saute until brown, dry reserve.
Roast in the oven at about 160 ° garlic until tender. In a dish arrange the braised crumbled bread, on this put sardines and a little paprika and roasted garlic clove.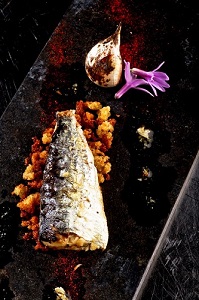 - White tuna fish stew
Ingredients:
2 onions, 1 white leek, 2 cloves of garlic, ½ green pepper, 1 dl of white wine, paprika de la Vera, water, salt, potato and onion.
Chop the vegetables and saute very strong on a little oil, add the paprika and then the wine, let it evaporate and add the water, salt and point to boil a few minutes, blend and strain.
Cut six potatoes, cook over low heat. Cut the spring onion into wedges.
We have in the bottom of the dish some stew and some potatoes, on this put the slices of white tuna, spring onion and onion.