Ortiz, Cantabrian canned fish
1. Canning Ortiz, sustainable fishing
Ortiz uses a big range of techniques to fish the albacore, but on the Cantabrian coast they are still using the same traditional arts of yesteryear, ensuring the preservation of species. The traditional technique of "live bait (cebo vivo)" and " (lacacea) trolling" to catch Albacore and "fence (el cerco)" is used for anchovy.
For fishing, still fresh and alive baits are used, to more effectively attract the fish. The practice of live bait is a common method of fishing and widely used throughout history by Cantabrian fishers.
2. The development process: tradition and craftsmanship
- Fishing
The anchovy fishing at the time of the year in which the anchovy is in the perfect spot: firm texture, right size and color and unique flavor. During this period the organoleptic qualities of anchovy are optimal.
- Salting
After evisceration process, anchovies are placed in separate by salt and allowed to mature in barrels for at least 6 months layers. The maturation time is very important to achieve a great aroma, flavor and texture.
- Packaging

The next step is the hand filleted anchovies carefully with a knife. The result, fleshy anchovies and intense flavor. A delicacy, intense aroma, meaty texture and distinctive flavor.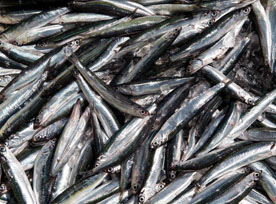 3. Where are the canning coming from?
This very peculiar fact of cooking food and vacuum packaging them was the brainchild of a Frenchman, under Napoleon, who promised a prize to anyone who will help preserve food.
This young French cooker, Nicolás Appert, he began to experiment and observe that boiled food more than 80 degrees without being exposed to air, lasted longer without being spoiling.
The tinplate was invented by an Englishman whose name was Peter Durand.
In Spain we met the canning food because of a French ship, that was shipwrecked in the Costa da Morte. The following year there were a cannery in Galicia.
The fish canning are all a classic in Spanish grastronomy. Every year, a Spanish person eats more than 4Kg. The most consumed product is the mussel, specially in scallop sauce and brine sauce.
Our products Ortiz
4. Benefits of consuming canned Ortiz
Albacore, sardines or mackerel are some fish that contain high amounts of Omega 3 acids, which are part of a group of substances whose intake is very beneficial to health
Cardiovascular disease, some cancers, lung diseases, skin... are almost nonexistent in populations where consumption of these nutrients is high. In recent years due to the short time people have, fish consumption has been reduced. Through canned Ortiz you have the opportunity to eat in a fast and very healthy way.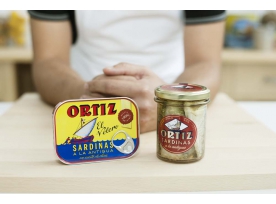 5. Recipes
Tomato concasse and White tuna lasagne

Ingredients
– 60 g Reserva de Familia White tuna in Olive Oil
– 70 g ripe tomatoes
– 30 g spring onions
– Oregano
– Salt
– Sugar
– Balsamic vinegar
Peel the tomatoes, deseed, and dice. Place to one side. Slice the spring onion and sauté gently. When it is soft, add the chopped tomato and the oregano and heat until it bubbles. Add salt, and sugar if the sauce is too sharp. Meanwhile, remove the White tuna from its can in flakes and place to one side. To assemble the lasagne, first place a layer of the tomato concasse in a dish, followed by a layer of White tuna in oil, another layer of tomato, and so on, finishing with the White tuna. Dress with a little balsamic vinaigrette.
Anchovy and mozzarella salad
Ingredients
For 2:
– 50 g Ortiz Anchovies in Olive Oil
– 2 Salad tomatoes
– 50 g Mozzarella
– Extra virgin olive oil
– Salt
– Parsley
Wash the tomato and slice it and the mozzarella into rounds. Place the tomato and mozzarella slices alternately on a dish in a circle, putting the Ortiz anchovies on top of the tomato slices. Garnish with chopped parsley to your taste, and season with salt and a dash of extra virgin olive oil.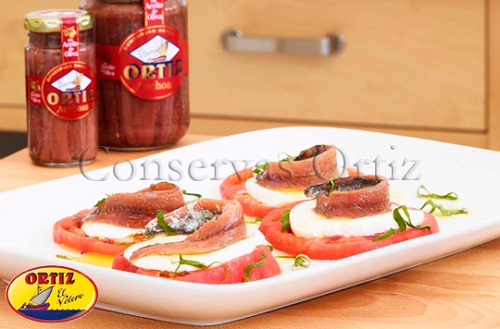 Guacamole and White Tuna Belly Fillets
Ingredients
– 2 cans of Ortiz White tuna fillets
– 2 ripe avocados, chopped
– 2 tomatoes, skinned and chopped
– 2 tbsp chopped onion
– 1 tbsp fresh chopped coriander
– Chopped green chilli (or Tabasco sauce) to taste
– 1 tbsp lemon juice
– 2 tbsp extra virgin olive oil
– Salt and white pepper
Vinaigrette

– 1 skinned deseeded tomato chopped into small dice
– 50 g extra virgin olive oil
– 3 tbsp chopped chives
– 1 tbsp lemon juice
– Salt and white pepper
In a bowl, mix the chopped avocados, tomato, onion, coriander, green chilli, lemon juice, olive oil, salt and white pepper. Leave to rest for 10 minutes before serving. While it is resting, cover with cling film to ensure that it doesn't discolour. When it has rested, shape the guacamole into small piles with a spoon and place along the serving dish. Place a generous piece of Ortiz north coast tuna belly on top of each pile. Dress the plate with the vinaigrette and the chopped chives.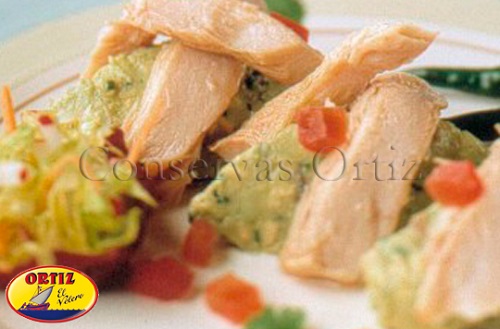 'Piquillo' hot pepper "rose" with organic anchovies
Ingredients
Serves 2:
– 2 'piquillo' hot peppers
– 1 can of Anchovies in Organic Olive Oil
– 1 clove of garlic
Slice the 'piquillo' hot peppers and place them on a dish in the shape of a flower. Roll up an anchovy and place it in the centre. Use chives as a stalk, and some pieces of anchovy for leaves. Garnish with chopped garlic and parsley.