A ham is the best gift. Everyone likes and who has not try yet will keep captivated.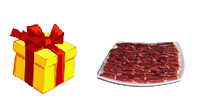 You can select between different forms with different prices that will fit the budget of your ham gift.
In the shopping cart select the "GIFT" option and enter the gift card message that we will add with no cost.
A HAM GIFT, a success!
Want to send "Pata negra" ham and gourmet products to every corner of Europe?
We ship products throughout the European community quickly and safely.
- UK, Denmark 3-4 días
- France, Germany2-3 días
- Italie, Holland, Belgium 2-3 días
- Finland, Sweden, Ireland 4-6 días