We are experts in "Pata negra" Bellota ham. Our shop in Barcelona for over 30 years.
Contact us :   Contact form
Address: Pg. Sant Joan 181, Barcelona (**View MAP**)
From our shop in Barcelona. Direct to your home in Europe
We are the second generation of ham specialists in our shop in Barcelona, Pernil 181. (Pg Sant Joan 181)
Our best presentation are our customers who trust on our knowledge, experience and personalized attention.
We open doors in the Internet with Jamonarium.com, the same top quality products at the best price.
Our history, our customers' trust
Our beginnings date back to the 50's. Pernil181 founder, Antonio Ferrer, began his career in the world of public markets in Barcelona, Clot marquet, Abacería Central Market, La Boqueria Market, Felipe II marquet,etc.
In 1988 Pernil181,our current store, opened in Passeig Sant Joan 181, Barcelona. Since then, we have worked hard to deserve our costumers trust.
The second generation.
Tradition and technology come together
This second generation is carrying out the opening of the Internet online shopping so that you can enjoy our products wherever you are in Europe.
Jamonarium.com is the fruit of our customers trust and the top quality products catalog.
Our ham brand, our quality guarantee
To purchase an Iberian ham is a matter of trust. Therefore, we only sell our brand Jamonarium hams and shoulders hams.
We know how they have been fed. We know how they have been cured. We know how they have been transported. We monitor all the process, from the beginning to the end, so that we can guarantee a 100% quality.
"We select your ham as if you were here. We guarantee quality"
In our warehouse we have enough pieces of our products to select your order just in the right point of the curing process and the exact weight. We bone, cut and pack your order to send it to you with total guarantee.
We are specialized in Spanish top quality hams. So we know what we sell and we know what we are talking about.
Carlos Ferrer, Product & logistics manager
"Purchase easily and secure.

 We are here, to help you"
For any question or problem we want to provide you a personal reply, without intermediaries, in Spanish, English, French or Catalan, so that you feel confident in your own language.
We keep on working in our website for you to have a better and easier experience.
Alex Torguet, Customer Service Manager
"Visit our shop in Barcelona,
an unforgettable place

"

In the store, Sergi will show you all our products and he will recommend an special product for you.

If you're a wine lover, he will advise you the wine that best suits your taste or your dinner with friends.

Sergi Morilla, Wine expert & shop manager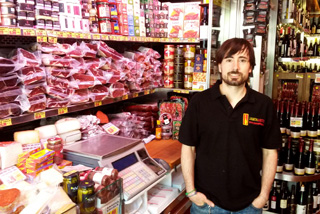 Are you comming to Barcelona?

Visit us in our shop, you'll love it!!!

 

Come and visit us in our ham store in Barcelona, Pernil181, located in Passeig San Joan 181. We would love to meet you in person and show you our shop full of delicious Spanish hams.

The situation of our shop is privileged, between two of the most visited neighborhoods of Barcelona, Gracia and Sagrada Familia.

Ten minute walk from the Sagrada Familia temple, designed by Antonio Gaudi, five minutes walk from the center of Gracia, one of the areas most frequented by the locals and tourists visiting Barcelona. There you will find plenty of charming restaurants and most typical terraces from the night in Barcelona. Dinning in Gracia is something you don't ha ve to miss!!!

A little more than 15 minutes walk away from La Pedrera ( Casa Mila ), designed by the modernist architect Antonio Gaudi and placed in Passeig de Gracia, one of the most impressive streets of the Catalan capital.

A little more than 20 minutes walk to the north we find the Park Güell. In this park you can enjoy the spectacular views over Barcelona, forest area and monuments designed by Antoni Gaudi, among them the dragon, the columns, the pavilion and benches decorated.
.
In our store of Spanish hams and delicatessen in Barcelona you can pick up your online order with no shipping cost. See shipping rates.

Our ham shop is a reference in Barcelona and in the neighborhood of Gracia / Sagrada Familia. Its 30-years of history and its reputation for good service and quality products makes it a hot spot not to be missed when visiting the city.