How to send a gift ham? Gift packs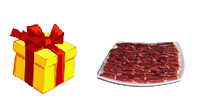 ---
1. Choosing a ham or a pack for gift

What kind of ham to give away? Gift packs?
When we want to make a gift, whether a friend, a relative, a customer or even supplier, first we have to decide what kind of ham we want:
- Whole hams and shoulder hams with bone
- Whole hams and shoulder hams without bone
- Hams and shoulder hams sliced
Once we know the format of the ham we have to choose the quality of the ham, and it will depend on the budget and the addressee preferences:
In addition to a ham, we can give away a gourmet products pack. We suggest two options:
- Create yourself your own gift pack with the products you wish.

OLIVE OIL AND VINEGAR – HAM & SHOULDER HAM- COLD MEAT – CECINA (CURED SMOKED BEEF)
MANCHEGO CHEESE- GOURMET PRODUCTS - ACCESSORIES AND HAM – WINE CELLAR
2. Neither prices nor bills
We do not include either price or shipping invoice, whether present or not. We simply attach a list of the products ordered.
From your account in Jamonarium.com you can download a simplified invoice or ticket.
Do you need an official invoice?

Contact us via the contact form and we will send you the official purchase invoice by email.
Do not forget your
Do not forget your ID or VAT if you have not included it in the order billing address.
3. The packaging. Your ham wrapped for a gift.
All shipments are wrapped with the best packaging for products traveling safely.
The hams and shoulder hams are wrapped with greaseproof paper, cotton bag and decorative colorful mesh. It is shipped in a sturdy cardboard box with handle wood style, ideal gift.
4. Free Gift Cards
If your order is a gift we offer the possibility of adding a gift card with no charging cost.
You can write a custome message in the Gift card and leave it in the shopping trolley.
Check the box "GIFT" on the shopping trolley write a custome message.
5. Shipment tracking of your ham gift


Any time we will keep you informed of the status of your order and the shipment.
You will receive the following notifications:
- A confirmation email when you have done the payment order. Go over all the details to verify they are correct.
- A mail when the order is sent.
- The next business day, an email with a link will be sent to you so you can see the shipping status and the scheduled day of delivery.
- If there are any problems with the delivery we will contact you.
- When the order is delivered to the recipient you'll receive a mail to let you know.
- A few days later you will receive a mail of thanks and to give us your opinion about Jamonarium service. See all the opinions of our guests here.